VMware Cloud on AWS Outposts
Bringing the Power of VMware and AWS to Your Data Center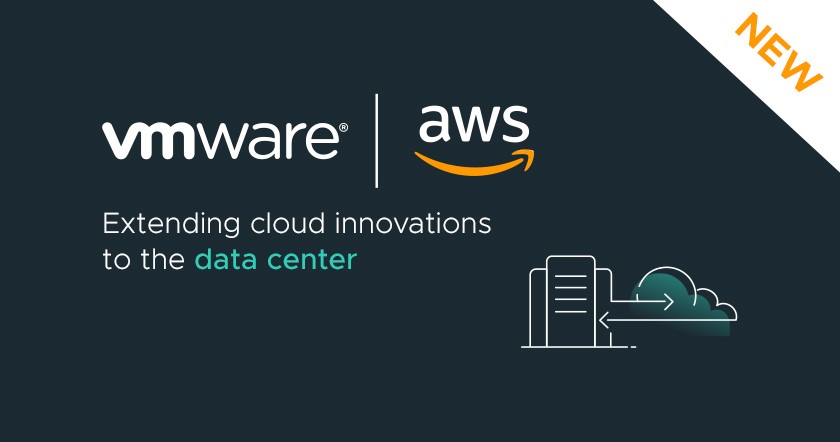 Accelerate innovation, increase agility and streamline operations with a fully-managed VMware Cloud experience in your data center.
VMware Cloud on AWS Outposts is a jointly engineered on-premises as-a-service offering, powered by VMware Cloud Foundation. It integrates VMware's enterprise-class Software-Defined Data Center software that runs on next-generation, dedicated, elastic Amazon EC2 bare-metal infrastructure, delivered on-premises with optimized access to local and remote AWS cloud services.

Cloud Model On-Premises
Leverage simplified public cloud-like consumption model on-premises with access to native AWS services
Choose from AWS Nitro-based EC2 Metal servers with local SSD storage as well as AWS Elastic Block Storage(EBS)
Scale capacity elastically in days/weeks as per your needs
Switch from cap-ex to op-ex financing model and optimize your infrastructure costs
Automated Infrastructure Management
Leverage VMware managed infrastructure with automated lifecycle management
Get scheduled SDDC software updates and emergency software patches with notifications and continuous monitoring delivered as-a-service from VMware
Leverage proactive monitoring, auto-remediation/fixes by AWS for any hardware issues
Consistent Infrastructure and Operations
Continue using familiar VMware tools and skillsets to manage your vSphere environments across hybrid cloud
Reduce risks, costs and time of migration by eliminating the need to rewrite applications or modify the operating models
Integrate with your ecosystem of VMware and 3rd party tools just the way you do in your on-premises data center
Consistent Infrastructure and Operations
Continue using familiar VMware tools and skillsets to manage your vSphere environments across hybrid cloud
Reduce risks, costs and time of migration by eliminating the need to rewrite applications or modify the operating models
Integrate with your ecosystem of VMware and 3rd party tools just the way you do in your on-premises data center
Consistent Infrastructure and Operations
Continue using familiar VMware tools and skillsets to manage your vSphere environments across hybrid cloud
Reduce risks, costs and time of migration by eliminating the need to rewrite applications or modify the operating models
Integrate with your ecosystem of VMware and 3rd party tools just the way you do in your on-premises data center