Dynamic Environment Manager
(Formerly known as User Environment Manager) – VMware Products

VMware Dynamic Environment Manager simplifies end-user profile management
Dynamic Environment Manager offers personalization and dynamic policy configuration across any virtual, physical and cloud-based Windows desktop environment, and is a key component of JMP – the next generation of desktop and application delivery. This focused, powerful and scalable solution is engineered to deliver workplace productivity while driving down the cost of day-to-day desktop support and operations.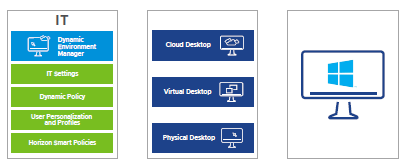 Personalization and Dynamic Policy Configuration
Manage profiles and policies across any virtual, physical and cloud-based Windows desktop environment.
Simplify end-user profile management
Provide your organizations with a single, light-weight and scalable solution that leverages existing infrastructure.
Accelerate time-to-desktop and time-to-application
Replace bloated roaming profiles and unmaintainable, complex logon scripts. Map environmental settings (such as networks and printers), and dynamically apply end-user security policies and personalizations.
Centralized and simplified user environment management with policies and settings
Simple by design, this solution can easily be managed without scripting or complex user interfaces.
Enterprise-grade scalability
Scale out services with a single solution that supports virtual, physical and cloud-hosted environments.
Consistent and personalized experience across devices and locations
Contextual policies for user persona management ensure that IT can map policy settings that tie directly to the end user's device and location
Building block for JMP
JMP (pronounced jump) is the next-generation desktop and application delivery platform included in VMware Horizon Enterprise. JMP leverages Instant Clones, App Volumes, and Dynamic Environment Management technologies to untangle the operating system, applications, and user personalization. By doing so, all the component pieces together can be reconstituted on-demand to deliver Just-in-Time desktops and apps across any infrastructure topologies – delivered to any device.
Dynamic Environment Manager agents are installed on RDS or VDI hosts, and devices such as desktops and laptops. Agents are enabled and configured through central GPOs in Active Directory that IT sets up with Dynamic Environment Manager or using NoAD mode. IT can then set up policies and settings using the management console.
When a user logs into their laptop or virtual desktop, for example, policy settings such as drive and printer mappings and shortcuts are automatically configured according to the set policy. IT can even create dynamic contextual policies based on conditional statements from the management console.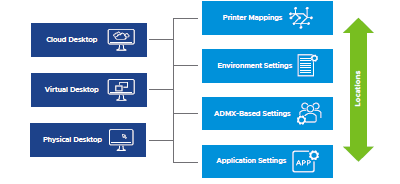 Application settings can also be predefined such that when a user opens up an application, the application configuration settings are automatically configured for quick application access. Settings can be applied to published applications and virtual desktops, such as VMware Horizon®, VMware Horizon® Cloud, Horizon Apps, RDSH desktops and apps, and Citrix Virtual Apps and Desktops.
Administrators can selectively grant elevated privileges to users to execute tasks as well as allow or block execution of applications. With ADMX-based settings, IT can use standard ADMX templates to configure user and computer policies. And with Dynamic Environment Manager, Horizon Smart Policies can be configured to control the behavior of remote desktop features in Horizon sessions.
---