VMware Fusion Pro

Powerfully Simple Virtual Machine for Mac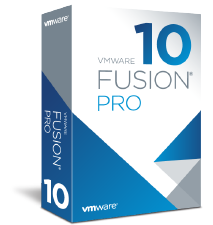 More pricing below, click here!
VMware Licensing
VMware Fusion Pro

VMware Fusion 10 Pro
#FUS10-PRO-C
Our Price: $159.99
Overview:
VMware Fusion: Powerfully Simple Virtual Machine for Mac
VMware Fusion gives Mac users the power to run Windows on Mac along with hundreds of other operating systems side by side with Mac applications, without rebooting. Fusion is simple enough for home users and powerful enough for IT professionals, developers and businesses.
---
Run Nearly Any Operating System on a Mac
Running Windows on Mac is only the beginning. VMware Fusion lets you choose from hundreds of supported operating systems, from lesser-known Linux distributions to the latest Windows 10 release.
Connect to VMware vSphere
WorkstationSecurely connect with vSphere, ESXi and Workstation servers to launch, control and manage both virtual machines (VMs) and physical hosts. Thanks to the common VMware platform, VMs can be easily transferred from the vSphere data center to the Mac desktop and then run in Fusion.
Run Local Corporate Desktops
Isolate corporate desktops from BYO devices by disabling copy-and-paste, drag-and-drop, shared folders and access to USB devices. Run restricted VMs that are encrypted and password-protected, ensuring that only authorized users can interact with corporate data.
Develop and Test for Any Platform
Fusion makes it simple to test nearly any OS and app on a Mac. Build and test apps in a sandbox while securely sharing local source files and folders. Fusion Pro now includes a RESTful API to integrate with modern development tools like Docker, Vagrant, Ansible, Chef, and others to fit the power of VMware into today's Agile and DevOps-oriented production pipelines.
Design and Demo Complex Solutions
With the ability to run an entire virtual cloud stack on a single Mac, solution architects can demonstrate their entire software solution in real time, with safe rollback points to return to known configurations. Fully express the story of your software journey by running all of its components on a single notebook to show the world.
DesignMake Windows Feel at Home on Mac
Fusion blends your Windows experience seamlessly with the Mac you love. You have the flexibility to keep the two worlds securely apart, or integrate them for one seamless experience. Install a fresh OS like Windows 10 or easily convert an older PC into a virtual one.
Features: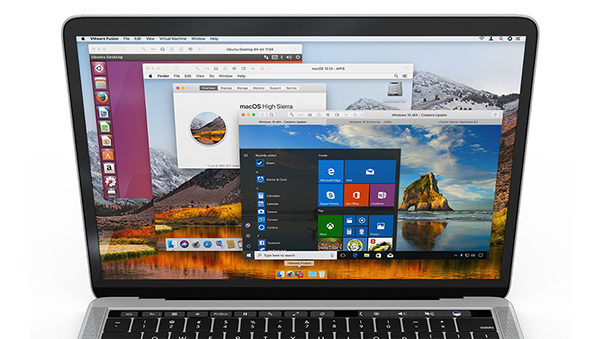 Ready for macOS High Sierra and Touch Bar
Launch virtual machines on Mac with macOS 10.13 Sierra, including APFS support, or safely test the latest macOS in a sandbox on your current Mac without disruption. With an updated UI and support for the latest Touch Bar enabled Macs, Fusion is better than ever.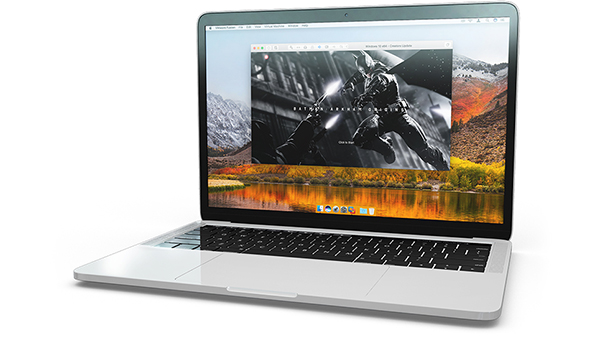 Powerful Graphics
With its hardware accelerated 3D graphics engine, Fusion can provide DirectX 10 and OpenGL 3.3 capabilities to Windows and Linux virtual machines to drive complex graphics applications, games as well as a rich modern user interface. New in Fusion 10 is added support for Apple's 'Metal' graphics technology, delivering smoother graphics while improving battery life.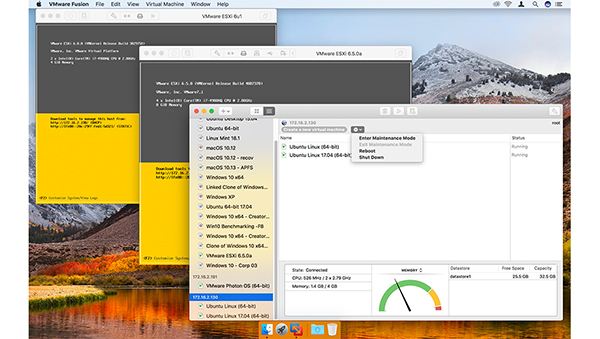 vSphere Connectivity
Connect to vCenter, ESXi or Workstation Pro servers to drive, control, and configure VMs or ESXi Hosts, or transfer virtual machines back and forth with a simple drag-and-drop. With a common underlying hypervisor, Fusion makes it easy to run or control VMs from the corporate data center from the comfort of your Mac. *Pro Only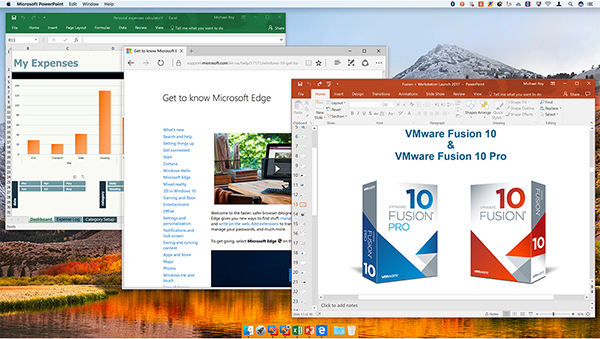 Unity View Mode
Fusion's Unity View Mode hides the Windows desktop so you can run Windows apps just like Mac apps. Windows apps can launch directly from Dock, Spotlight or Launchpad and, once running, can be viewed in Exposé, Spaces and Mission Control just as if they were Mac apps.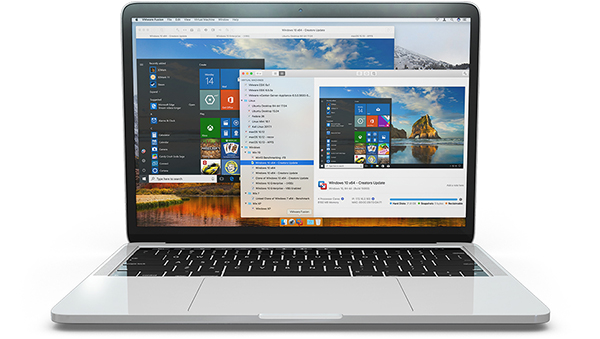 Support for Windows 10 Fall 2017 Creators Update
Stay on the cutting edge with full support for running the latest versions of Windows 10 as a virtual machine on your Mac.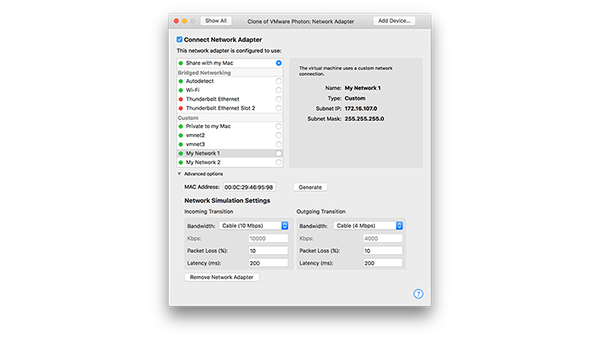 Enhanced Virtual Networking
Create complex IPv4 or IPv6 virtual networks for VMs, or integrate with third-party software to design full data center topologies using real-world routing software and tools. New in Fusion Pro is Network Simulation for introducing packet loss, latency and bandwidth restrictions. *Pro Only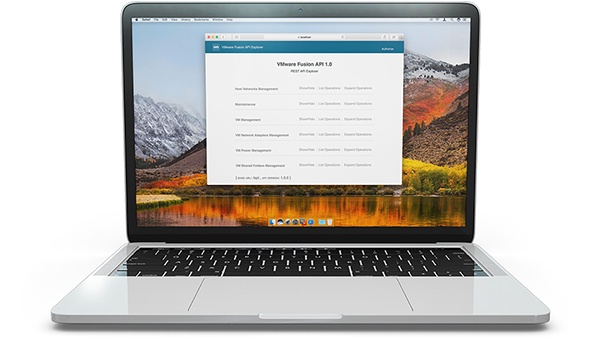 Fusion REST API
Fusion Pro now provides a secure RESTful API service designed for automation and third-party software integration. Leveraging the Swagger.io framework the Fusion API uses standard HTTP/S and JSON to control over 20 different VM and Host operations. Build custom deployment tools to deliver macOS-as-a-Service, or integrate Fusion into a modern, continuously iterative development pipeline with automated testing. *Pro Only
Updated Virtual Hardware Platform
Fusion leverages the next generation vSphere hypervisor platform, and brings new enhancements for data center testing and enterprise security. Fusion now includes a new virtual Trusted Platform Module for supporting Microsoft Virtualization Based Security technologies such as Device Guard and Credential Guard, as well as UEFI Secure Boot and virtual NVMe devices.
Integrated Experience
Enjoy seamless copy-and-paste between Windows and Mac, drag-and-drop file sharing, folder sharing and mirroring, and networking and printing that require no setup but can be highly customized for professional or advanced use cases.
Helpful Snapshots and Clones
Use Snapshots to create a rollback point to revert to on the fly, which is perfect for testing software or creating repeatable demos. Clones make it easy to test a variety of different scenarios without the need to deploy the same OS configuration multiple times.
Sandboxed Experience
Isolate the Mac from Windows by disabling integration features to secure and protect the operating systems from each other. VMware Fusion gives you choices that aren't possible when carrying a second computer.
Complement to Boot Camp
No more choosing between Windows or Mac at start-up. Fusion lets you run Windows and Mac apps side-by-side directly from your existing Boot Camp partition without re-installing or rebooting.
Simplified OS Installs
With Fusion, you can run Windows from a Boot Camp partition, install from a Windows disc, migrate from an existing PC or even install macOS as a virtual machine from the recovery partition. Fusion provides a simple yet customizable way to install multiple operating systems on your Mac. New in Fusion is updated support for the Open Virtualization Format which includes an effortless installation walkthrough of the VMware vCenter Server Appliance OVA.
Clones for Rapid Duplication
Save time and effort when creating the same virtual machine configuration repeatedly. Use "Linked Clones" to quickly duplicate a VM while significantly reducing physical disk space, or use "Full Clones" to create fully isolated duplicates that can be shared with other Fusion or Workstation users. *Pro Only
Retina and 5K Display Ready
VMware Fusion looks great on the latest 5K iMac displays and supports mixed retina and non-retina setups. Use a standard DPI display with your retina MacBook Pro or add a 4K display to your setup without hassle. No matter what sort of display you're using, Fusion makes Windows look better than ever.
Accessibility
VMware is dedicated to supporting its customers by making Fusion and Fusion Pro accessible to people with disabilities in alignment with the regulations of Section 508 standards. Leverage the Mac's assistive technology and Fusion to interact with elements inside of Windows to give accessibility controls to applications that wouldn't otherwise have them.
Compare:
Compare VMware Fusion 8 Pro to VMware Fusion 8
VMware Fusion 8
VMware Fusion 8 Pro
General
Create and run multiple operating systems as VMs
Create Large VMs (64GB RAM)
Mass deployment
Multiple Snapshots
Convert PC into a virtual machine
macOS Integration
Host/guest file sharing
Shared/Mirrored Folders
Run VM with Different View Modes
Unity View Mode
3D graphics with DX10 and OpenGL 3.3 support
Device Support
Runs on the Latest Mac OS
High Resolution 4K/5K/Retina Display Support
Support a Wide Range of Virtual Devices
USB Smart Card Reader Support
Works with Assistive Devices (Section 508 Compliant)
Multi-language Keyboard Support
Operating System Support
Support for Windows 10 VM
Support for macOS High Sierra Host and Guest
Over 200 Supported OSs (Linux, older Windows, BSD)
Run BootCamp as VM
Import/Convert BootCamp into VM
Advanced Features
Command Line Operation: vmrun and VIX
3rd Party Integrations
Create Linked Clones
Create Full Clone
Advanced Networking
Secure VM Encryption
Connect to vSphere/ESXi Server
New Features
New User Interface
Touch Bar Support
vCenter Server Appliance Effortless Deploy
Fusion API
Remote vSphere Power Operations
Virtual Network Customization (NAT, network rename)
Virutal Network Simulation (Packet Loss, Latency, Bandwidth)
Virtual Trusted Platform Module Device
UEFI Boot Support
UEFI Secure Boot Support
Virtual NVMe Device
TECH SPECS
Fusion 10
Hardware

All Macs launched in 2011 or later are supported except:

2012 Mac Pro "Quad Core" using the Intel® Xeon® W3565 Processor.

In addition the following are also supported:

2010 Mac Pro "Six Core", "Eight Core" and "Twelve Core".

Software

OS X 10.11 El Capitan Minimum Required
Metal Host Graphics Rendering Engine
Hardware

MacBook (early 2015)
MacBook Air (mid 2012 or newer)
MacBook Pro (mid 2012 or newer)
Mac Mini (late 2012 or newer)
iMac (late 2012 or newer)
Mac Pro (late 2013 and newer)

Software

Mac OS X 10.12.5 or later

See Apple's documentation regarding Metal supported Macs: https://support.apple.com/en-us/HT205073
FAQs:
Is VMware Fusion 10 a free update?
VMware Fusion 10 and VMware Fusion 10 Pro are paid upgrades for customers who currently own Fusion 7 or 8/8.5 licenses. Customers on older versions of Fusion (before 7.0) must purchase a new license.
What programs can I run with VMware Fusion?
VMware Fusion lets you run more than 200 operating systems as virtual machines, including Windows XP through Windows 20 Fall Creators updates. Nearly all programs that run on these operating systems will run with VMware Fusion. Programs can range from common productivity suites (such as Microsoft Office) to graphics-intensive programs such as AutoCAD or SolidWorks, as well as custom applications.
Can I play 3D games in a virtual machine?
Yes, VMware Fusion 10 has 3D-accelerated graphics support, allowing you to play most games that require DirectX 10.0 with Shader Model 3 or OpenGL 3.3 in Windows XP Service Pack 3, Windows Vista, Windows 7 and Windows 8 and Windows 10 virtual machines. Version 10 also supports Apple's 'Metal' rendering technology on compatible systems.
Do I need Apple Boot Camp to install VMware Fusion?
Boot Camp is not required to run Windows on a Mac with VMware Fusion. However, if you already have Windows installed as a Boot Camp partition, VMware Fusion can easily create a Windows virtual machine based on your Boot Camp Windows installation. This will allow you to run Windows programs side-by-side with your Mac applications without having to reboot your Mac.
Can I migrate Parallels Desktop for Mac virtual machines to VMware Fusion?
Yes. VMware Fusion 10 can easily import Parallels Desktop for Mac (versions 2.5 through 12) based virtual machines. Simply launch VMware Fusion, go to the File menu, select 'Import', select your virtual machine setting's file, and click 'Import'.
Will VMware Fusion 10 slow down my Mac?
In typical use cases, VMware Fusion 10 has little to no impact on your Mac's overall performance. The impact on performance will mainly depend on the amount of applications and virtual machines running at the same time, how much RAM is available on your Mac and the speed of your storage. SSD-based Macs are recommended for optimal performance.
Can I access and use USB 2.0 and USB 3.0 devices?
Yes, you can use the vast majority of USB 2.0 devices without additional setup required, such as video cameras, external hard drives, GPS devices, and much more in a virtual machine. USB 3.0 devices can also be accessed and used in Windows 8 or higher virtual machines.
Does VMware Fusion 10 support Retina display Macs?
Yes, VMware Fusion 10 supports Retina display Macs for a crisp and detailed experience of your Windows programs. Fusion 8 ensures you get a seamless experience when running Windows across Retina, 4K, 5K and non-Retina displays.
Can I use multiple displays with VMware Fusion?
Yes, VMware Fusion 10 supports up to 10 displays in both full screen and Unity views.
Can I access FireWire or Thunderbolt hard drives in Windows?
While FireWire and Thunderbolt ports cannot be directly forwarded to Windows VM's the same way that USB works, you can still access your FireWire or Thunderbolt hard drives in VMware Fusion by mapping the hard drive to a VMware Shared Folder. Go to the Virtual Machine menu, select 'Shared Folders' and select 'Add Shared Folder'. Select your FireWire hard drive and click 'Open' to assign your FireWire disk to the shared folder. To access your FireWire hard drive in Windows, go to 'VMware Shared Folders' shortcut on the desktop and select your FireWire hard disk.
How many CPUs can I assign to a virtual machine?
You can assign up to 16 Virtual CPUs to a Fusion 10 virtual machine, so the virtual machine can harness the full power of a Mac using the latest Intel processors. Multiple Virtual CPUs are recommended when you have applications that can take advantage of multiple processor cores and you have a multi-core Mac.
Support:
Complimentary Support
Email installation support for VMware Fusion and VMware Fusion Pro is valid for 18 months from product registration. Submit support requests either online or via phone; responses are targeted within one business day.
Per Incident Support
Purchase support as you need it for VMware Fusion and VMware Fusion Pro. Individual incident support is conveniently sold in 1, 3 or 5 incident packs. Submit support requests either online or via phone; responses are targeted within one business day.
Basic Support
With a minimum quantity of 10 VMware Fusion Pro licenses, VMware Basic Support provides access to our global support centers, 12 hours a day, 5 days a week, including unlimited support requests and subscription services for 1 or 3 year periods.
Production Support
With a minimum quantity of 10 VMware Fusion Pro licenses, VMware Production Support provides access to our global support centers, 24 hours a day, 7 days a week for Severity 1 issues, including unlimited support requests and subscription services for 1 or 3 year periods.
Support FAQs
| Support Eligibility | VMware Fusion | VMware Fusion Pro |
| --- | --- | --- |
| Complimentary email support for up to 18 months from product registration | | |
| Eligible for Per Incident Support | | |
| Eligible for Basic or Production Support (Minimum of 10 licenses required) | | |
When does complimentary support start?
Complimentary support starts when your VMware Fusion license is registered. Registration takes place automatically if you purchase your product from the VMware Online store. If you purchased from a reseller, you need to register your license in My VMware. Please consult this KB article for detailed instructions on license key registration.
How long does complimentary support last?
Complimentary support for VMware Fusion and VMware Fusion Pro is valid for 18 months from product registration.
Can I use a support incident for different versions of Fusion, for example versions 7 and 8?
Yes, you can purchase support incidents and open a support request for any product version that is still officially supported by VMware.
What is the support period for VMware Fusion?
VMware Fusion follows the Personal Desktop lifecycle policy.
What type of technical support help can I get if I am evaluating VMware Fusion?
Evaluation users can get help through the VMware Fusion Community. Evaluation users are not eligible for complimentary email support.
Are there any free Fusion support resources available from VMware?
VMware provides several self-help and community supported resources including:
Knowledge Base – troubleshooting information
Community Forum – users can share their information and experiences with others (registration required)
User Groups (VMUGs) – live, local gatherings of VMware users
Customers are also eligible for complimentary installation support for up to 18 months following product registration.