Horizon Cloud
Cloud Hosted Virtual Desktop Platform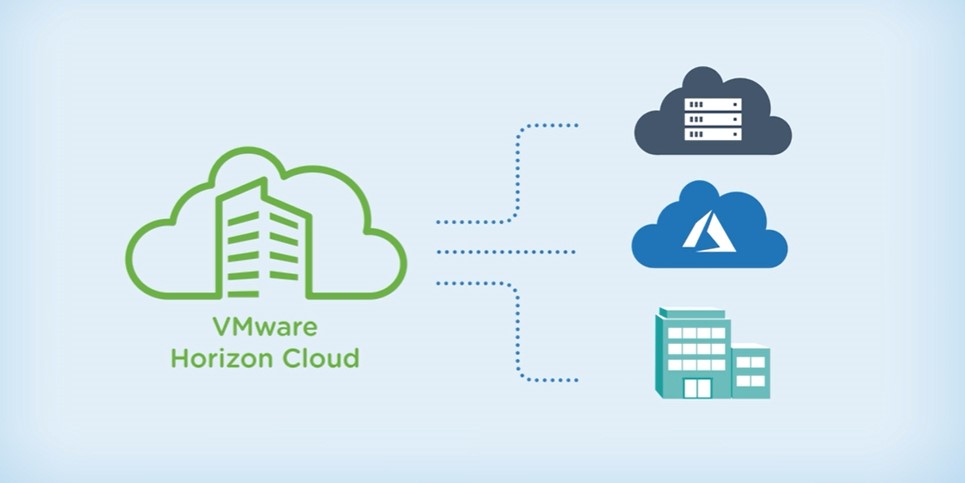 Horizon Cloud transforms traditional virtual desktop and application infrastructure with unprecedented simplicity and flexibility.
Multi-Cloud Architecture
Horizon Cloud provides a multi-tenant, cloud-scale architecture that enables you to choose where virtual desktops and apps reside: VMware-managed cloud, BYO cloud, or both.
Clear Path to the Future
Leverage the extensive VMware End-User Computing portfolio to transition your virtual desktops and apps to the cloud on your terms and maximize current investments.
Digital Workspace Experience
Horizon Cloud makes it easier than ever for end users to securely access their digital workspace on any device, anytime, anywhere.
Incredible Value on Top of Windows Virtual Desktop
Horizon Cloud includes functionality above and beyond Microsoft Windows Virtual Desktop, including user environment management, application management, advanced power management, support for hybrid environments, and more.
---
Deliver Zero Trust Security to Horizon VDI and Apps
Learn how NEW Workspace Security VDI delivers a high performance, intrinsically secure virtual desktop and application solution powered by market leading VMware Horizon and Carbon Black technology.
Horizon Cloud on Microsoft Azure Supports Windows Virtual Desktop
Begin leveraging Azure at your own pace while maintaining your on-premises environment and saving money.
App Volumes is Available in Horizon Cloud on Microsoft Azure
Simplify application management and save on storage consumption with VMware App Volumes for Horizon Cloud on Microsoft Azure.
Introducing the Horizon Universal License
The key to achieving your elastic, secure, hybrid, and multi-cloud desktop virtualization vision. Learn how the Horizon universal license gives you the flexibility to deploy in the cloud of your choice.
Advanced Load Balancing for Horizon and Horizon Cloud
VMware NSX Advanced Load Balancer (by Avi Networks) enables great end-user experience for Horizon in any data center or cloud.
Leading Change: Build Trust with the Anywhere Workspace
Building the future of work by providing an integrated solution to help you successfully empower the anywhere organization.
---
VMware Horizon Cloud delivers feature-rich virtual desktops and apps using a purpose-built cloud platform that is scalable across multiple deployment options. You can bring your own cloud infrastructure or buy cloud-hosted infrastructure from VMware.
Horizon Cloud on IBM Cloud
Avoid the hassle and cost of managing your own infrastructure and deliver desktops and apps in the cloud with managed infrastructure from VMware on IBM Cloud.
Benefits:
Enterprise-grade security, production-level support and a 99.9% uptime SLA
Scale in a fraction of the time of traditional on-premises environments
Easily forecast costs with simple and predictable, per-user pricing






Horizon Cloud on Microsoft Azure
Connect your Microsoft Azure infrastructure to the Horizon Control Plane and securely deliver virtual desktops and apps hosted in Microsoft Azure data centers.
Benefits:
Get consumption-based pricing down to the minute for your capacity, with no up-front costs or termination fees
Leverage Microsoft's many Azure data center regions across the globe, including Microsoft Azure Government
Simplify cloud-hosted virtual apps by pairing your Azure infrastructure with the Horizon Control Plane
Easily manage and deliver virtual apps from the cloud without additional infrastructure providers
Coming soon: Will extend the features of Windows Virtual Desktop
Download the VMware Horizon Cloud Complete Feature Comparison (PDF).
---