NSX Advanced Load Balancer
Load Balancing Platform
Modern Load Balancing – Bring the Public Cloud Experience
For businesses today, the ability to rapidly and cost effectively deploy, and update applications is paramount. The infrastructure powering applications needs to deliver the efficiency of cloud operating models. The software-defined platform delivers applications consistently across bare metal servers, virtual machines and containers to ensure a fast, scalable, and secure application experience.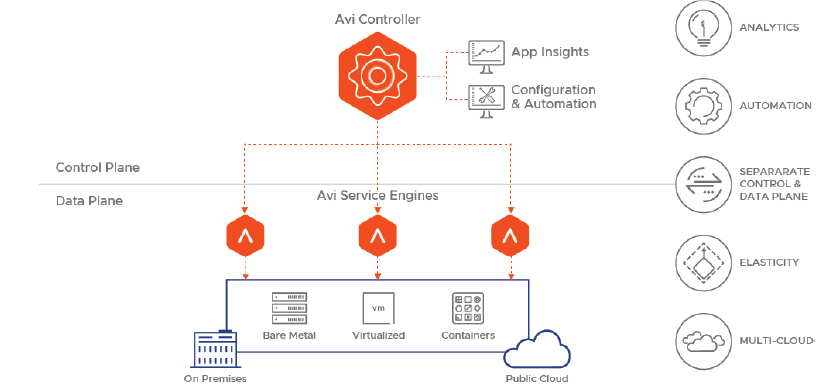 Multi-Cloud Consistency
Simplify administration with centralized policies and operational consistency across on-premises data centers and public clouds, including VMware, OpenStack, AWS, Azure, and Google Cloud Platform.
Pervasive Analytics
Gain unprecedented insights, including network, end users and security with real-time application performance monitoring, closed-loop analytics and deep machine learning.
Full Lifecycle Automation
Free infrastructure teams from manual tasks and enable DevOps teams with self-service. Application delivery automation toolkits include Python SDK, RESTful APIs, Ansible and Terraform integrations.
Future Proof
Extend application services such as container ingress seamlessly to cloud-native applications in Kubernetes and OpenShift environments through a single platform a with modern, distributed architecture.
Key Benefits
90% Faster Service Provisioning
Rapid Problem Resolution in seconds through app health scores, application analytics, security, and client insights
30% Reduction in TCO through ondemand application scaling and support for any bare metal server, VM, or container on-premises or in the cloud
What's Included
A single platform that provides:
• L4-L7 load balancing
Web application firewall
Container ingress gateway
Global server load balancing (GSLB)
Real-time application analytics
On-demand application autoscaling
Modern Load Balancing / SDDC
Modernize your data centers with automation, cloud-native load balancers, and TCO savings of over 50%. Transform your legacy load balancers from F5 or Citrix to 100% software solutions.
Public / Private Cloud
Deliver consistent application services including load balancing, web application firewalling and container networking across multi-cloud environments: VMware, Amazon AWS, Microsoft, Azure, and more.
Container Ingress
Extend enterprise-grade container networking and services across traditional applications in on-premises data centers and cloud-native applications in container environments.
Features
DESCRIPTION

Enterprise-class load balancing

TLS 1.3 support, SSL termination, default gateway, GSLB, DNS, wildcard VIP and other L4-L7 services

Multi-cloud load balancing

Intelligent traffic routing across multiple sites and across private or public clouds, global server load balancing supported with Canary upgrades of leader and follower sites

Application performance monitoring

Monitor performance and record and replay network events with granular logging

Predictive autoscaling

Application and load balancer scaling based on real-time traffic patterns

Cloud connectors

VMware, SDN controllers, OpenStack, AWS, GCP, Azure, Linux Server Cloud, OpenShift/Kubernetes, VMware Cloud on AWS (customer-managed)

Distributed application security fabric

Granular app insights from distributed service proxies to secure web apps in real time

Application security

Positive security model and learning mode for web application firewall (WAF)

SSO / Client Authentication

SAML 2.0 authentication and authorization for back-end HTTP applications

Automation and programmability

REST API based solution for accelerated application delivery, extending automation from networking to developers with self-service portal enabled

Application analytics

Real-time telemetry from a distributed load balancing fabric that delivers millions of data points in real time

Centralized management and upgrade

Policy-based management and ability to selectively upgrade data plane with Flexible Upgrade

Networking protocols support

BGP, RHI and ECMP, BFD, IPv6, VLAN & trunking, VRF awareness

Consolidated container services

Kubernetes Services including ingress, WAF, GSLB, DNS/IPAM on a scalable platform with support for multi-cluster, multi-site and multi-AZ container clusters

SUPPORTED PLATFORMS

VMware

vCenter, VMware NSX, VMware Cloud on AWS

OpenStack

Queens, Rocky, Stein, RH OSP, Keystone v3

Bare Metal

RHEL, CentOS, Ubuntu, Oracle Enterprise Linux, Cisco CSP (NFV appliance)

Containers

Kubernetes, OpenShift, Amazon EKS, AKS, GKE

Public Cloud

Microsoft Azure, Amazon Web Services (AWS), Google Cloud Platform (GCP), IBM Cloud, Oracle Cloud

SDN

Cisco ACI/APIC, VMware NSX, Nuage VSP, Juniper Contrail

IPAM / DNS

Avi DNS, Azure DNS, Azure DNS Private Zones, AWS Route 53, Infoblox, Custom DNS integration

Automation

Ansible, Terraform, Swagger, Python SDK, Go SDK, vRealize Orchestrator (vRO), Native REST API

Monitoring

Splunk, Cisco Tetration, Cisco AppDynamics, Graphite, Datadog, Logstash, Elasticsearch, InfluxDB, Syslog, Prometheus, Zabbix
View The NSX Advanced Load Balancer Datasheet(PDF).
---