VMware SD-WAN by VeloCloud

The Platform for Network Virtualization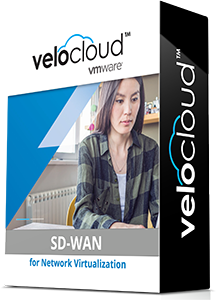 VMware Products
VMware SD-WAN by VeloCloud
VMware SD-WAN by VeloCloud
#SD-WAN
Get a Quote!
More pricing below, click here!
Overview:
VMware SD-WAN™ by VeloCloud® is a cloud-delivered solution for network operators and application owners who want to ensure high application performance and availability for their end users while lowering networking costs. VMware SDWAN ensures a reliable and resilient WAN, with a choice of connection types, including MPLS, LTE, Wi-Fi, and broadband. VMware SD-WAN combines multiple links and uses traffic steering technology to select the best path for each application to ensure consistent performance and overcome quality issues and outages. It can detect slight degradation that would affect application performance, improve performance over a single link using congestion mitigation technology, and adapt without any noticeable impact on the user experience.
At a Glance
VMware SD-WAN enables enterprises to securely support application growth, network agility, and simplified branch implementations while delivering high-performance and reliable branch access to cloud services, private data centers, and SaaSbased enterprise applications. VMware SD-WAN is built on software-defined networking principles to address end-to-end automation, application continuity, branch transformation, and security from the data center and cloud to the edge
What SD-WAN Does
Enables Bandwidth Expansion
SD-WAN increases bandwidth economically by aggregating WAN circuits of any type, providing faster response even for single application flows.
Provides Optimal Connectivity
Data plane function and orchestration are delivered in the cloud to provide direct and optimized access to cloud as well as on-premises resources.
Supports Virtual Services
The SD-WAN platform can host multiple virtualized network functions to eliminate single-function appliances and reduce branch IT complexity.
Automates Branch Deployments
You can deploy a branch in minutes with VMware SD-WAN Edge activation from the cloud. Automatic WAN circuit discovery and monitoring eliminates link-by-link and branch-by-branch configuration.
Cloud-Delivered VMware SD-WAN in 4 Minutes
Key Benefits:
Simplified WAN Management: Zero touch deployments, simplified operations, one-click service insertion
Assured Application Performance: Transport-independent performance for the most demanding applications, leveraging economical bandwidth
Managed On-ramp to the Cloud: Direct cloud access with performance, reliability, and security
SD-WAN Features
Performance and Reliability
Deliver hybrid WAN with high performance reliability, transport, and provider flexibility to assure optimal performance even for demanding applications, such as voice and video.
Virtual Service Platform
Reduce the branch office footprint with a single click. VMware SD-WAN enables seamless insertion and chaining of virtualized services on-premises and in the cloud.
Cloud Network
Eliminate data center backhaul penalties with a cloud-ready network to provide an optimized direct path to public and private enterprise clouds.
Automation and Orchestration
Centralized monitoring, visibility and cloud control enable zero-touch branch deployment while delivering automatic business policy and firmware updates, link performance, and capacity measurements.
Software Features:
Category
Features
AAA
RADIUS, Local authentication and authorization, Multitenant 3 Tier RBAC Architecture, Auditing, Roles and privileges
Availability
High Availability for Edge, Disaster Recovery for Orchestrator, Multi-Link for high availability of WAN. Edge Clustering
Configuration and Monitoring
REST API, SDK (Java and Python), Syslog, SNMP, NetFlow, 3000+ Applications/Categories, ANPM, Application Usage, Device identification, Live Mode, Zero IT Touch Activation
Deployment Flexibility
Eliminate Pre-stage, No CLI, Group Policies, Consolidated ICOM and End customer dashboard, VNF form-factor, Multi-tenant Stateless Headend, Transport group for Business Policy Abstraction, Application aware Service Insertion OnPrem or in Cloud, RMA Workflow, Customized Application Maps
Dynamic Multi-path Optimization
Application and Network Condition aware sub-second steering, Jitter/Loss Correction, Fast Intelligent Routing, Intelligent Gateway Selection, Link Aggregation, TCP Flow Optimization, Uni-Directional Link measurements, Bandwidth Detection
Multi-tenancy
Controller, Gateway, Orchestrator
Network Services
IPv4, DNS, DHCP Client, DHCP Server, DHCP relay, NAT
QOS
Shaping, Policing, Per-flow queueing, Tunnel Shaper, Multi-Source Inbound QoS, RateLimiter, COS Aware, Outer/Inner DSCP Tagging, Smart Defaults, MPLS COS
Remote Troubleshooting
Live Mode, Alerts, Events, Remote Diagnostics (examples - DNS Test, Ping Test, Flush active flows, List active flows, Paths, VPN Tests, Packet capture etc.), PKI Infrastructure with Certificate Management workflows, Diagnostic Bundles
Routing
OSPF, BGP, Static, Connected, ICMP Probes/Responders, Overlay Flow Control, Per-Packet Application aware steering, Route filter, Route redistribution OSPF, BGP, Static, Connected, ICMP Probes/Responders, Overlay Flow Control, Per-Packet Application aware steering, Route filter, Route redistribution
SaaS/IaaS
Improved performance for cloud apps, supports well-known IaaS (e.g. AWS, Azure), Cloud Web Security (e.g., Zscaler, Websense, OpenDNS)
Security
AES256/128, SHA1/SHA2, IKEv2, VPNC Compliant IPSec, PKI, Segmentation, TLS1.2, SCEP, Firewall L2-7, 1:1 NAT, Port Forwarding, Dynamic Branch to Branch, MAC Filtering
Security Service Insertion capabilities:
Simplified service insertion of third-party NGFW VNF running locally on Edge Simplified cloudbased NGFW, AV, IPS/IDS, threat-detection service insertion
VLAN Tagging
802.1Q, 802.1ad, QinQ (0x8100), QinQ (0x9100), Native
WAN Overlay Support
Public/Private/Hybrid Transport, Cloud and On-Premise
VMware SD-WAN Components
The VMware SD-WAN solution consists of hosted or on-premises cloud gateways; branch office appliances and data center appliances; a central orchestrator to automate policies; and virtual services insertion capabilities.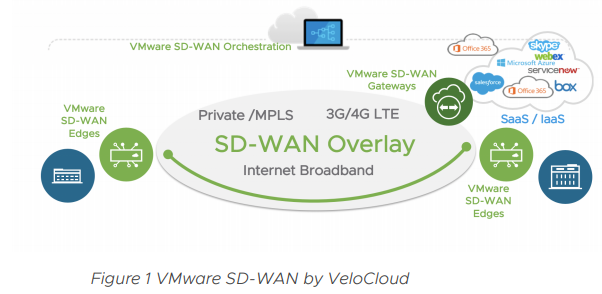 VMware SD-WAN Edge
Enterprise-class appliances that provide secure, optimized connectivity to applications in any location, including private data centers, public clouds, and hybrid deployments.
VMware SD-WAN Edge software is zero-touch provisioned from the cloud for secure, optimized connectivity to applications and data.
The VMware SD-WAN Edge with Dynamic Multi-Path Optimization (DMPO) and deep application recognition aggregates multiple links (e.g., Private, Cable, DSL, 4G-LTE) and steers traffic over optimal links to other on-premises VMware SD-WAN Edges in branch offices, private data centers, campuses, and headquarters.
They can easily integrate with the existing network via routing protocols and benefit from dynamic learning and automation. Edges deliver highly available deployment with a redundancy protocol.
They can host VNF services simplifying branch office deployments of network services.
The VMware SD-WAN Edge is available as a hardware-based appliance, a virtual appliance, and on the cloud marketplace on AWS and Azure. It can also be loaded in a VM on a server or as a VNF.
VMware SD-WAN Gateways
VMware SD-WAN Gateways optimize data paths to all applications, branches, and data centers along with the ability to deliver network services to and from the cloud. A distributed network of gateways, deployed around the world or onpremises at service providers, provide scalability, redundancy, and on-demand flexibility.
VMware SD-WAN Gateways implement VMware SD-WAN Dynamic Multi-path Optimization (DMPO), cloud VPN, and VMware SD-WAN Multisource Inbound Quality of Service between global cloud services (SaaS, IaaS, network services) and each VMware SD-WAN Edge, enabling multiple broadband and private leased lines to appear as a single, high-performance WAN.
VMware SD-WAN Orchestrator
A cloud-hosted or on-premises secure and scalable web-based central management tool provides simplified configuration, provisioning, monitoring, fault management, logging, and reporting. The VMware SD-WAN Orchestrator enables the simple implementation of business-based policies for application delivery, simplifying application traffic management.
Using VMware SD-WAN's zero-touch deployment capability, VMware SD-WAN can be quickly installed. The VMware SDWAN Edge is shipped to the branch office where non-IT personnel can plug in power and a few cables. Activation, configuration, and ongoing management are all handled in the VMware SD-WAN Orchestrator.
Pricing Notes:
Pricing and product availability subject to change without notice.
VMware Products
VMware SD-WAN by VeloCloud
VMware SD-WAN by VeloCloud
#SD-WAN
Get a Quote!