Telco Cloud

Cloud First. Transform Faster.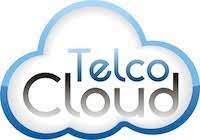 Overview:
Enable Telco Innovation with a Unified Architecture
Deliver any application on any cloud anywhere—from the core and the RAN to the edge and cloud
Multi-Cloud IT Operations for Visibility and Control
Increase business agility and operational efficiency with software-defined data center and hybrid cloud.
Cloud-First Networks for Service Agility
Deliver on-demand, customizable services with a unified telco cloud—from the core and RAN, to the edge and cloud.
Next-Gen Services for Business Model Innovation
Improve customer experiences and increase revenue by expanding your services portfolio.
---
A Partner Ecosystem Built for Telco Cloud Success
ISVs
Build, Test, & Certify VNFs/CNFs on VMware Telco Cloud Infrastructure
System Integrators
Accelerate Digital Transformation with SISO Expertise & Validated Solutions
Cloud
Fast-track and simplify enterprise cloud migration and hybrid cloud deployments
Network Equipment Providers
Achieve Operational Agility with Interoperable Solutions
---
VMware Telco Cloud Partner Ecosystem
VMware delivers a best-in-class deployment experience that provides CSPs the choice, agility and reliability they require to get the most value from VMware Telco Cloud solutions.
HCL
Ericsson
Tech Mahindra
Intel
Wipro
Amdocs
Mavenir
Asocs
Nokia
Cellwize
World Wide Technology
Accenture
Mobiledge
Dell
Samsung
Altiostar
Telco Cloud Platform

Network function deployment for 5G networks
---
Modernize Your Cloud for Web-Scale Speed and Agility
VMware Telco Cloud Platform™ — 5G Edition is a cloud-native platform powered by field-proven VMware Telco Cloud Infrastructure™ coupled with automation, providing a cloud-first approach that delivers operational agility for virtual, cloud-native 5G, and Edge network functions. Telco Cloud Platform helps Communication Service Providers (CSPs) expedite the innovation cycle to deliver new applications and services, reduce operational complexities, and achieve substantial TCO savings over other approaches, further accelerating CSPs' cloud modernization journey to 5G.
The Telco Cloud Infrastructure components, their interactions with each other, and how they meet CSP requirements are described in the Telco Cloud Infrastructure 5G Reference Architecture Guide.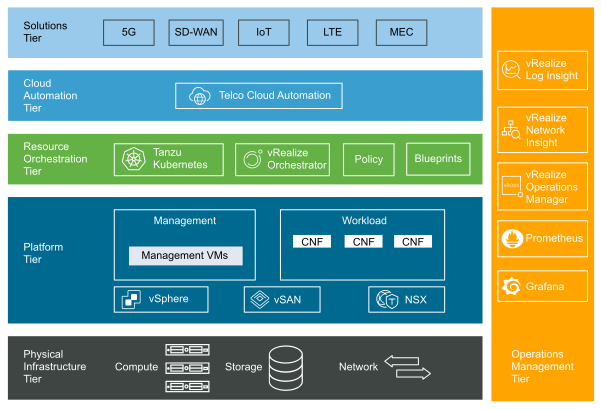 ---
What Telco Cloud Platform Does?
Hybrid CaaS & IaaS Infrastructure
Modernize your cloud to run both CNFs and VNFs side-by-side with the consistent horizontal infrastructure and deploy them throughout 5G networks, from core to edge. Achieve low-latency data plane performance and scaling through enhanced networking with NSX
Carrier-Grade Kubernetes
Utilize microservices to run your cloud-native applications and CNFs together. Simplify your Kubernetes operations for multi-cloud deployments with centralized management and governance. Take advantage of cloud-native principle to rollout your 5G networks with Multus, Topology Manager, and Kubernetes cluster automation tailored for telco use cases.
Carrier-Grade Networking & Performance
Architect your networks with integrated security for optimum application response times, scale, and service continuity dedicated to each tenant with complete resource isolation. Utilize network virtualization solution, such as virtualized switching, routing, firewalling, and load balancing, with accelerated data plane performance achieved by DPDK and SR-IOV.
Streamlined Cloud-First Automation
Improve efficiency through multi-layer automation from infrastructure, CaaS, network functions, up to services. Radically simplify network operations with integrated lifecycle management automation at each layer of the telco cloud. Maximize cloud resources utilization through intent-based placement and CaaS automation, optimizing the cloud configurations for the workload requirements. Accelerate 5G and edge network deployments with zero-touch provisioning.
Best of Breed Multi-Vendor Ecosystem
Accelerate your deployment of 5G services by removing integration challenges between the platform and network functions through VMware Ready for Telco Cloud program. Ensure network functions are interoperable in accordance with the ETSI-compliant reference architecture. Automate deployment and lifecycle operations with the descriptor, workflow, and resource and commissioning artifact.
---
Features
Zero-Touch Provisioning
Accelerate the infrastructure and CaaS instantiation, simplifying the operations ideal for the expansion of new sites.
CI/CD Pipeline
Deploy, redeploy, and upgrade network functions quickly and reliably, achieving telco-grade resiliency and always-on service availability.
Automation
Adjust the underpinning infrastructure availability and resource configurations dynamically based on the requirements of each network function to be deployed.
Tailored Design and Onboarding
Create optimized network function and service TOSCA templates compliant with ETSI standards using a visual blueprint composer.
Lifecycle Management
Improve operational efficiency by automating provisioning and managing of infrastructure layer, CaaS layer, network functions layer, and network services layer.
Streamlined Deployment and Maintenance
Accelerate service deployment, simplifies upgrades, and reduces overall costs by transforming integration-intensive projects into efficient product deployment.
Service-Aware Infrastructure
Optimize resource utilization and increase agility by gaining real-time awareness across every aspect of the telco cloud from infrastructure availability to service requirements.
Telco Cloud Automation

Automated management of network functions across any cloud
---
What Telco Cloud Automation Does?
VMware Telco Cloud Automation is a solution that accelerates time to market for network functions and services while igniting operational agility through unified automation—across any network and any cloud.
Accelerate Time to Market
Accelerate network service time-to-market with a simplified vendor-neutral and standard-compliant approach for designing and onboarding network functions or services. Leverage a catalog of TOSCA templates, acquire new ones from certified partners or simply build your own with an easy-to-use visual composer. Onboard and instantiate VNF and CNF seamlessly across tenants and clouds through pre-built integrations with multiple Virtual Infrastructure Managers (VIM) and Kubernetes.
Automate Operations
Embed multi-cloud and cloud-native agility to your operational processes with end-to-end lifecycle management automation capabilities from infrastructure up to network services. Define and apply policies using a comprehensive decisioning engine to automate day 0 to day 2 operations. Enable leaner operational processes, remove the complex and error-prone human activities while optimizing overall resource utilization through container management, dynamic scaling, workload portability, and closed-loop healing, all within a distributed data center ecosystem.
Streamline Orchestration
Faster time-to-orchestrate with native integration to VMware cloud technologies. Provide unique multi-VIM/Kubernetes, hybrid and multi-cloud capabilities enabling highly efficient workload placements, portability, and constant synchronization while enabling optimal use of the various VIM/Kubernetes APIs and abstracting their complexity. Transform an integration-intensive project into an efficient product deployment.
Enable Cloud-Native
Transition to cloud-native architecture seamlessly with Container-as-a-Service (CaaS) automation. Simplify the registration and creation of new Kubernetes clusters directly from Telco Cloud Automation. Optimize Kubernetes clusters during configuration and instantiation phases to fit network function resources and operational requirements. Operate and manage in a centralized system all active clusters across the registered clouds.
Simplify Interoperability
Built as a modular and model-driven solution, G-VNFM and NFV Orchestration (NFVO) components can integrate with SOL-compliant ETSI MANO architecture. The VMware® Ready for Telco Cloud program enhances interoperability by providing xNF certifications for both VMware Telco Cloud Infrastructure and Automation, ensuring consistent end-to-end solution operations and management.
Unify Orchestration
Onboard and orchestrate workloads seamlessly from VM and container-based infrastructures for adaptive service-delivery foundation. Distribute workloads from the core to the edge and from private to public clouds for true modern network unified orchestration.
Automate Telco Cloud Expansion
Build new network core and edge sites with multi-layer automation - from infrastructure up to network services. Reduce the complexity and deployment time for expanding the capacity into existing network locations or build new telco cloud sites through deployment templates, Zero-Touch-Provisioning (ZTP), and CaaS automation.
Enhance Experiences
Deliver a higher level of customer experience with adaptable and resilient services. Combine real-time decisioning capabilities with holistic Telco Cloud awareness for optimal closed-loop actions, improving quality of service. Automate the distribution of network functions and service workloads across distributed data centers and availability zones for optimal resiliency.
---
Economic Benefits of the VMware Telco Cloud Automation
Research conducted by ACG highlights several key benefits of VMware Telco Cloud Automation with horizonal infrastructure:
344% ROI and 23% reduction in TCO over five years
Faster service creation and faster time to market
OPEX savings of 38%
Unified orchestration and automation
---
How Telco Cloud Automation Works
VMware Telco Cloud Automation applies a cloud-first, vendor-neutral approach to telco network orchestration and automation. It eases interoperability and simplifies the translation of telco requirements to a rapidly evolving multi-cloud ecosystem.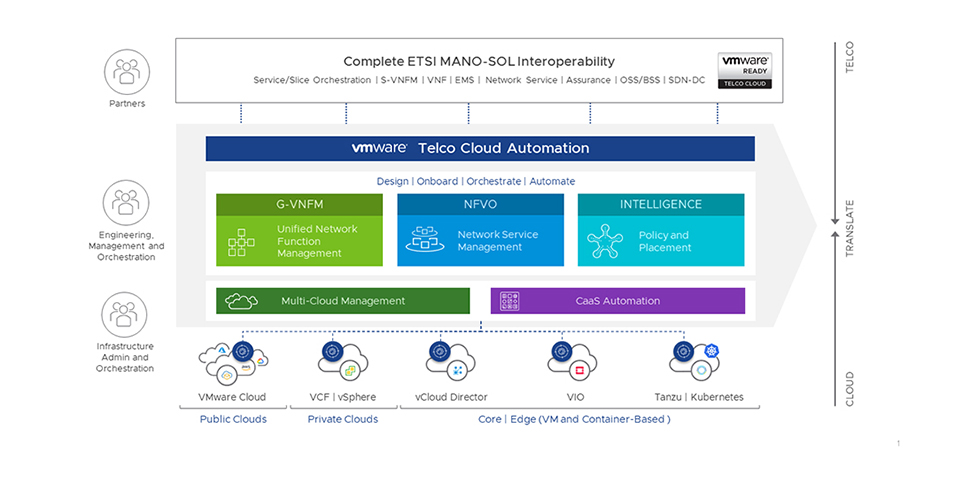 ---
Features
Hybrid & 5G Turnkey Architecture - Packaged NFVO, Generic VNF Manager (G-VNFM) CaaS, and Multi-Cloud Management capabilities with pre-built integrations to VMware Telco Cloud Infrastructure.
Standard-Based Interoperability - ETSI MANO and CNCF compliant architecture leveraging open SOL and Kubernetes standard interfaces for vendor-neutral interoperability.
Multi-VIM and Kubernetes Cluster Management - Ease registration with multi-VIM and Kubernetes cluster auto-discovery plus continuous synchronization from infrastructure to orchestration.
Multi/Hybrid-Cloud Placements - Support complex xNF/NS instance deployments and management use cases spanning multiple technologies from core to edge and private to public clouds.
Intent-Based Placement - Optimize workload placement with automated recommendations to align network function requirements and cloud capabilities.
Unified Network Function Management - Seamlessly manage physical, virtual and cloud-native network functions.
Container-as-a-Service Automation (CaaS) - Register existing or create new Kubernetes clusters using Telco Cloud Automation plus automatically align cluster configurations based on network function requirements.
Zero-Touch-Provisioning (ZTP) - Automate the provisioning of new sites from Telco Cloud Infrastructure up to network functions and services.
Simplified Onboarding - Accelerate lengthy network function and service onboarding cycles by integrating descriptor templates leveraging open standards.
Programmable Automation - Tailor auto-operations behavior by establishing simple to elaborate rules for closed-loop policies across network function and service lifecycles.
Powerful Visual Composer - Create unique multi-vendor network service or xNF descriptors through an intuitive visual composer interface.
End-to-End Visibility - Centralize xNF/EMS and VIM/CaaS/NFVi fault and performance management (FM/PM) for enriched policies, workflows and assurance.
---
Download the VMware Telco Cloud Automation Datasheet (PDF).
Telco Cloud Operations

Automated service assurance for virtual network management
---
What is Telco Cloud Operations
VMware Telco Cloud Operations is a holistic service assurance solution that allows communications service providers (CSPs) and large enterprises to monitor and manage both their traditional physical infrastructure and new virtual networks as one. Based on a micro-services architecture, Telco Cloud Operations provides customers flexibility and scale.
VMware Telco Cloud Operations provides an automated approach to operational intelligence to reduce operational expenses, increase uptime, meet SLAs and operationalize new services faster. VMware Telco Cloud Operations automatically discovers the topology of a complex, multivendor network - including the physical, virtual and services layers - and presents the user with a comprehensive, graphical topology view. Leveraging an advanced self-adapting engine, VMware Telco Cloud Operations automatically identifies the root causes of problems within the network, prioritizes them according to business impact, suppresses extraneous alarms, notifies the operator, and integrates with OSS and orchestration tools to take closed-loop actions.
Rapid Insights at Lower Costs- Telco Cloud Operations provides communications service providers (CSPs) and large enterprises the operational intelligence they need to manage their multi-vendor virtual, physical and SD-WAN networks as one, to rapidly resolve network performance issues and ensure consistent delivery of services to subscribers.
---
Benefits of Telco Cloud Operations
Single Pane of Glass Management
VMware Telco Cloud Operations provides integrated service monitoring and network management from end-to-end. It correlates physical devices such as hosts, switches and routers with virtual environments such as SD-WAN, SDN, NFV, and VMs providing operations teams with rapid insight and automated actions. Ultra-fast deployment means teams are up and running quickly.
Discovers Physical and Virtual Topologies
With advanced auto-discovery capabilities, VMware Telco Cloud Operations can discover the topology of a complex, multi-vendor network – physical, virtual, tenants and services - and present operators with a comprehensive, graphical topology view. Changes to the network are automatically detected and the topology updated. Over 4000 devices are supported.
Triggers Automated Actions
Through integration with orchestration tools such as SD-WAN orchestrators or SDN controllers, VNF managers, NFV orchestrators and OSS systems, VMware Telco Cloud Operations can trigger automated, closed-loop actions for fast remediation of service. When VMware Telco Cloud Operations detects an issue, it will raise an alert and automatically request an action via the corresponding OSS system.
Performance Management & Analytics
Machine learning-based analytics reveal network performance insights across network domains. Operations teams can easily visualize performance analytics for networks and services and device statistics in a customizable graphical user interface. VMware Telco Cloud Operations automatically determines performance baselines and generates notifications when anomalous behavior is detected for better application performance.
Automates Root Cause Analysis
VMware Telco Cloud Operations provides automated root cause analysis of network incidents across service, physical, and virtual cloud environments for faster problem isolation and remediation. Extraneous alarms are automatically suppressed and root causes rapidly identified across domains. There are no static rules to be maintained, simplifying operations and reducing costly rules-upkeep.
Manages Multi-Tenancy, Multi-Vendor Environments
VMware Telco Cloud Operations provides multi-tenancy and multi-vendor support so CSPs can monitor and proactively manage multiple customers with diverse environments within a single eco-system. This transparency enables CSPs to visualize, analyze and optimize their environments to enable faster resolution times, provide high availability and meet stringent SLAs.
---
How VMware Telco Cloud Operations Works?
End-to-end assurance to holistically manage your virtual & physical networks as one. Gain cross-tier insight and cohesively monitor the health of services that span multiple layers of your network to ensure maximum performance.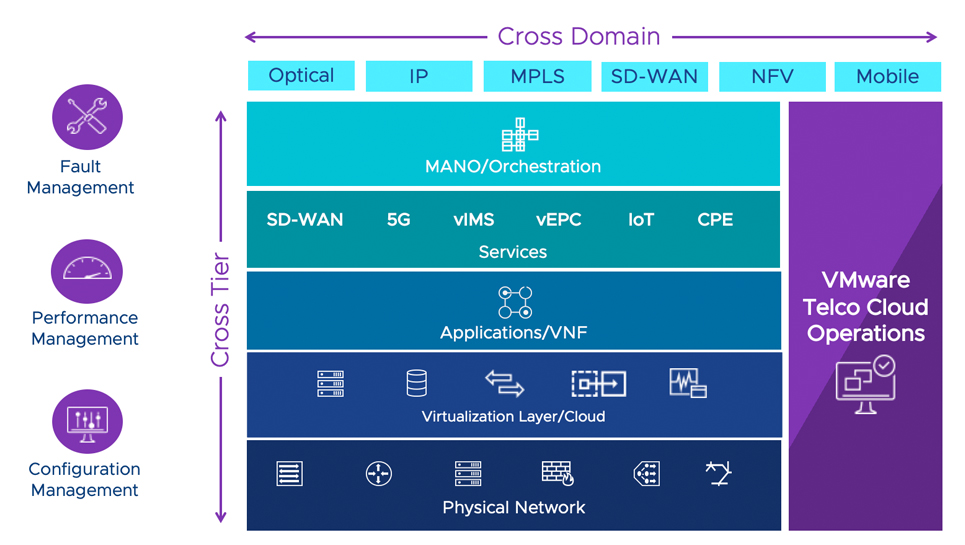 ---
Use Cases
Manage Enterprise Services
Managed Service Provider uses Telco Cloud Operations to help meet stringent SLAs for over 1000 enterprise customers, increasing uptime and improving customer experience.
Simplify Global Operations
Fortune 100 software company simplifies operations for vast global network, reducing alarm storms from over 100,000 devices and accelerating problem resolution
Slash Network Complexity with Automation
Tier 1 CSP slashes network complexity, meets SLAs & dramatically reduces network alarms by implementing VMware Telco Cloud Operations.
Optimize SD-WAN Management for MSPs
Leading Service Provider uses VMware Telco Cloud Operations to resolve the disconnect between their IP/MPLS infrastructure and the virtual SD-WAN networks overlaid on top of it.
---
Features
SD-WAN Monitoring - VMware Telco Cloud Operations supports the monitoring of multi-vendor SD-WAN enterprise services including VMware SD-WAN by VeloCloud and Cisco Viptela. It is fully integrated for multi-tenant support and fault management and provides issue isolation and impact assessment across the network.
SLA Management - With real-time performance metrics and machine-learning baselining, anomaly detection and alerting, VMware Telco Cloud Operations gives operations teams the insights they need to keep pace with today's dynamic networks and preempt issues before customers are impacted.
Business Impact Analysis - VMware Telco Cloud Operations allows the operator to assign priority business impact scores to tenants and services who may have contracted higher-value services and SLAs. It will automatically prioritize incidents for those tenants based on the impact analysis for faster remediation of services.
Increases Uptime & Reduces MTTI and MTTR - VMware Telco Cloud Operations automatically determines the relationship between services, protocols and infrastructure to rapidly identify to the root cause of issues and provide a prescriptive diagnosis. Events are prioritized based on customer, cost and service impact so that network operators can focus on the most important issues at hand and stay ahead of customer calls.
Self Adapting Engine - Rather than using a rules-based engine that needs to be continuously updated, VMware Telco Cloud Operations uses an advanced multi-dimensional deterministic model-based engine that automatically adapts to managed systems. Collecting thousands of events, it correlates these with known patterns and signatures and identifies where the root of the problem lies.
Configuration Management - VMware Telco Cloud Operations automatically discovers network device configurations, keeps a back-up of these configurations and performs continuous audits to ensure compliance. Network managers can upgrade multiple devices simultaneously and do bulk configuration changes.
NFV Assurance - VMware Telco Cloud Operations integrates with VMware Telco Cloud Infrastructure for an intelligent approach to multi-tenant and distributed NFV Assurance, supporting multi-vendor virtual compute (vSphere), virtual networking (NSX-T), VMware Integrated OpenStack (VIO), VMware vCloud Director (vCD), and OpenStack solutions.
Virtual EPC Assurance - AVMware Telco Cloud Operations extends a service-centric common information model for vEPC supporting network services for 4G LTE and VoLTE, correlated across several layers such as VNF components, VIM tenancy, cloud infrastructure, and physical network for root cause analysis and issue isolation.
---
Download the VMware Telco Cloud Operations Datasheet (PDF).
Telco Cloud Infrastructure

Multi-tenant platform with compute and storage capabilities
---
What is Telco Cloud Infrastructure?
VMware Telco Cloud Infrastructure is the evolution of VMware vCloud® NFV™, a modular NFV platform. The ETSI-compliant NFVI platform supports a broad set of Virtual Network Functions (VNF) applications, creating a large ecosystem for Communication Service Providers (CSPs) to deliver innovation at a rapid pace and scale. The consistent horizontal architecture of the NFVI platform enables CSPs to deploy various network functions and services for 4G and 5G networks, from core to edge. Furthermore, the same infrastructure components are used in VMware Telco Cloud Platform™, sharing the tried-and-true infrastructure DNA. This empowers CSPs to evolve their telco cloud deployments seamlessly from Infrastructure-as-a-Service (IaaS) to Container-as-a-Service (CaaS), without common upgrade dependencies.
---
What Telco Cloud Infrastructure Delivers?
Automated Lifecycle Management
Simplify infrastructure deployments across your networks, from core to edge, with Telco Cloud Automation. Automate provisioning of new sites as well as network expansion through pre-set templates and zero-touch provisioning.
Consistent & Horizontal Infrastructure
Transform your telco cloud with best-of-breed multi-vendor VNFs. Deploy VNFs across your networks, from core to edge, to support your customers' requirements and grow your business now. Simplify your operations with consistency.
Accelerated Performance & Scale
Architect your networks for optimum application throughput, response times, scale, and service continuity using resource guarantee, monitoring, and closed loop remediation. Achieve low-latency data plane performance and scaling through enhanced networking with NSX.
Cloud-First Secure Telco Network
Deliver your applications and services, when and where needed, with consistent connectivity with integrated security, QoS, and automation. Share horizontal infrastructure across multiple tenants for flexible deployments. Achieve complete tenant isolation with policy-based allocation of segmented compute, storage, and networking resources.
Intent-Based Service Assurance
Implement continuous performance optimization based on business and operational intent. Improve capacity utilization through real-time predictive capacity analytics and automatic resource reclamation. Realize 360-degree network visibility with automatic topology discovery, converged overlay and underlay visibility, and real-time network insights.
---
How VMware Telco Cloud Operations Works?
Uhana

AI-based RAN analytics for mobile network operators
---
What is Uhana by VMware?
Uhana by VMware is an advanced analytics and AI solution that provides real-time network and subscriber analytics. It enables mobile network operators to improve their customer experience management, optimize their operations, automatically detect and triage interference, predict future issues, and recommend appropriate remediations. All of this is done with the goal of achieving optimal control of mobile network operator's (MNO's) high-value cellular infrastructure in an automated fashion.
Subscriber-Level RAN Analytics - Uhana by VMware correlates and enriches high volumes of streaming data from mobile network elements to provide comprehensive insights at a subscriber level. Using AI, Uhana automatically determines the root cause of network issues and recommends remediations.
---
Why Choose Uhana by VMware?
Real-time Subscriber-Level Analytics - Uhana analyzes streaming data to provide mobile operators with real-time customer experience metrics, allowing MNOs to understand call quality and data performance on a per subscriber basis, in real-time.
Automated Root Cause Analysis - Uhana's AI platform leverages machine learning to detect, classify and localize issues in the mobile network in an automated fashion. Where possible, the platform determines a root cause and recommended fix.
Prioritization Based on Subscriber Impact - Uhana prioritizes alerts based on subscriber impact. This is done in an automated fashion, using machine learning to determine which issues will have the largest impact.
High-Resolution RAN Visibility - Due to the fine-grain visibility of the platform, Uhana reveals new network insights, processing millions of events and calculating hundreds of performance KPIs in real-time.
---
Uhana by VMware Features
Automated Data Enrichment Pipeline
Automatically joins call trace events such as establishment, & release procedures, and radio measurements belonging to the same user session in real-time to create subscriber session records.
AI-Based Root Cause Analysis
Each alert is further analyzed by identifying a root cause (leveraging neural network classifiers) and providing relevant KPIs and recommendations specific to the identified root cause.
Fine-Grain Visibility
Leverage eNodeB trace data to provide fine-grained, real-time, subscriber level visibility to quickly analyze RAN performance and utilization and subscriber Quality of Experience.
Carrier Scale
Uhana ingests and analyzes millions of continuously streaming events from tens of thousands of cells, for actionable insights, predictions & remediation recommendations.
Automated Incident Detection
Uhana's AI-enabled Alerts Pipeline automatically detects and clusters (temporally and spatially) anomalies of subscriber level KPIs using neural networks.
Cloud Native, Container-Based
The Uhana AI platform is a state-of-the-art cloud-native application leveraging a micro-services architecture. Built on Docker containers, micro-services enable resiliency and scale-out.
Prioritization of Alerts
Prioritization of alerts is based on impact analysis, e.g. how many subscribers are affected and the significance of service degradation, so that responses can be prioritized accordingly.
KPI Composer
Leveraging an interactive UI, operators can create custom KPIs within minutes, combining multiple metrics together as needed and saving weeks of time.
---
Use Cases
Uplink Interference Detection
Automate detection and classification of uplink interference (external, PIM, infrastructure) with prioritization based on type and number of subscribers impacted.
CAPEX Prioritization
Increase effective spectral capacity by improving RAN optimization engineering. Prioritize network investments that maximize subscriber impact and reduce CAPEX spending.
Interference Localization and Triangulation
Localize external interference with a prioritized list of search area and heatmap visualization. Reduce area of interference triangulation from miles/kms to blocks, saving hours of reconnaissance time.
OPEX Reduction
Automate RAN optimization analysis and improve efficiency of RAN optimization engineering & operations through AI based RCA, granular visibility, and impact prediction.
Downlink Throughput Impact
Use machine learning root cause and impact analysis algorithms to determine if cause of poor downlink throughput is related to load imbalance of antenna frequencies for optimum use of spectrum.
Automated Data Enhancement for Data Scientists
Reduce data science analysis cycle time by up to 30% through the automation of data preparation, freeing up valuable time for higher value functions.
---
Download the VMware Uhana Datasheet (PDF).
5G

Unified, multi-cloud 5G network
---
5G provides an opportunity for you to reinvent your role in the communications landscape—new customer relationships, new partnerships, new business models.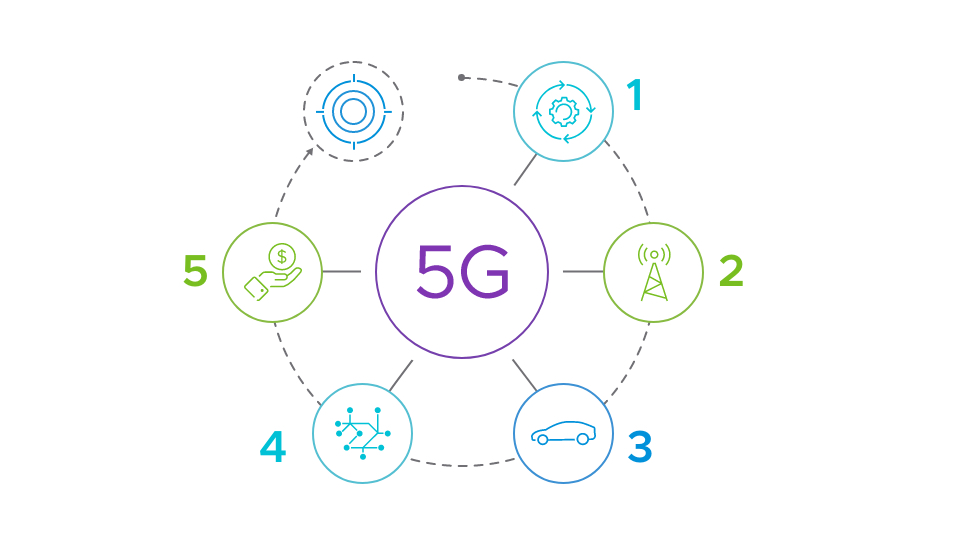 ---
Cloud-First Agility and Scalability
Investment - Create new services with ease and partner with new innovative technology providers.
Launch - Deliver experiences faster, with unparalleled quality of service.
Incident Response - Identify and correct network issues before they affect customers.
Vision - Scale easily without compromising performance.
Privacy - Protect networks and services with built-in security.
Efficiency - Improve network efficiency while reducing operating costs.
---
Monetize 5G Services
Private Cellular Networks
VMware Telco Cloud helps you meet enterprise private network and mobility needs with data sovereignty and security.
SD-WAN
VMware SD-WAN helps you deliver high-performance branch access to cloud services, data centers and enterprise web applications.
Digital Workspace
Digital workspace solutions from VMware can help you furnish enterprise customers with an intuitive digital workspace.
Endpoint Protection
Provide your enterprise customers with endpoint protection that adapts to their needs with VMware Carbon Black.