VMware Cloud Director
Cloud Service Delivery Platform
The Leading Cloud Service-Delivery Platform
Deliver secure, efficient, and elastic cloud resources to thousands of enterprises and IT teams across the world. Operate and manage successful cloud-service businesses using VMware Cloud director.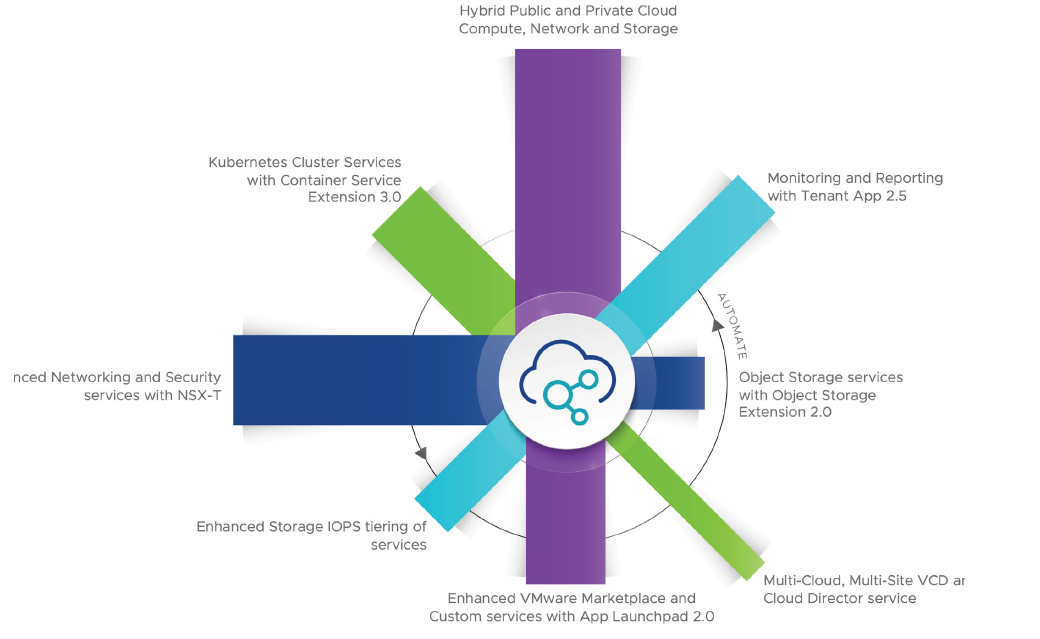 Elastic Secure Virtual Datacenters
A policy-driven approach to compute, storage, networking and security ensures tenants have securely isolated virtual resources, independent role-based authentication, and fine-grained control of their public cloud services.
Workload Protection and Cloud Migration
Enable simple, secure VM protection and migration with VMware Cloud Director Availability plugin for Cloud Director. Offering self-service, enterprise level Disaster Recovery as a Service, seamless and secure protection from on-premises to cloud and cloud to cloud, including cold or warm migration options.
Cloud-Native Applications and Development
VMware Cloud Director natively supports vSphere with Tanzu, K8s and PKS, providing an easy platform for developers to sandbox or deploy apps. Developers have access to hundreds of VMware Cloud Marketplace secure and tested applications in a simple to consume catalog, now supporting any target endpoint with the inclusion of Helm charts.
Operational Visibility and Insights
A refreshed dashboard and single pane of glass provide centralized multi-tenant cloud management views. Leverage vRealize Operations advanced analytics, chargeback, and native integration into VMware Cloud Director via the Tenant App for deep visibility and custom reporting of customer environments.
Thriving ISV Ecosystem
Leading software vendors across Cloud Native, Backup such as Dell Data Protection and Veeam, DRaaS, Security partners such as Palo Alto, Storage such as Cloudian, Dell ECS and AWS S3, and many more, natively integrated with VMware Cloud Director using our open extensibility framework. We empower cloud providers to deliver differentiated customer experiences and capture more service opportunities.
Multi-Site Management
Stretch data centers across sites and geographies; monitor resources from an intuitive single-pane of glass with multi-site aggregate views. Also connect to existing dedicated vCenters for management and access or on-board into VMware Cloud Director
Automation
With deep integration with leading automation tools such as vRealize Orchestrator and an open source vCD Terraform Provider. VMware Cloud Director enables Cloud Providers to automate complex infrastructure-as-code and tile UI driven workflows to deploy X-as-a-Service, all while maintaining access control and visibility.
Application Platform as a Service
Now deliver your own catalog based applications or VMware Cloud Marketplace certified 3rd party Cloud Applications, and custom catalog applications directly to customers through a simple catalog interface from the App Launchpad VMware Cloud Director plugin. This capability allows Cloud Providers to deliver 'Application Platform as a Service' to customers who needn't know anything about the supporting end point infrastructure, whether VMs or containers, for the catalog applications they deploy.
Operational Efficiency
VMware Cloud Director delivers secure, isolated, and elastic virtual datacenter compute, network, storage and security in a self-service model. Extreme infrastructure multi-tenancy, out of the box public and private cloud, easy application portfolios all combined with deep automation supports approximately 51% higher growth (IDC Business Value Snapshot 2020) and operational savings of millions.
Monetization
VMware Cloud Director is service-ready on Day 1, typically driving approximately 32% overall higher revenue from services (IDC Business Value Snapshot 2020). Cloud providers can spin up infrastructure and application platform-level services to customers and enterprises in minutes, powered by natively integrated as well as ecosystem-powered solutions available via context-aware workflows.
Hybridity and Security
Deep integration with NSX-T enables Cloud Providers stretch networks across virtual data centers globally. VMware Cloud Director cloud environments can serve as DR and backup targets with seamless workload mobility across on-prem and cloud. Enhanced security self-offerings from Layer 4 and Layer 7 distributed firewalling ensure customers security needs are met. NSX Advanced Load Balancer from Avi provides load balancing capabilities suitable for new hybrid applications and digital transformation initiatives.
Simplify cloud ops
Addressing the needs of DevOps teams in customers; provision and manage 'Infrastructure as code' services with vCD Terraform Provider appealing to developers to be able to deliver infrastructure directly from code. Complement functionality with capabilities provided by Python and vCD API as well as Object Storage API and App Launchpad APIs then developers have access to everything they need all through code.
Dev Ready Cloud
Native support for vSphere Tanzu and Container Service Extension plugin supporting, native K8s Clusters or PKS Kubernetes Clusters.
Differentiation
VMware Cloud Director-based environments carry the "Cloud Verified" certification, awarded to the most capable and innovative VMware Cloud Providers in the world. VMware Cloud Director is deeply extensible and customizable for cloud providers to deliver their unique themes, branding, and services to their customers.
---