VMware Cloud on AWS

Integrated Hybrid Cloud Service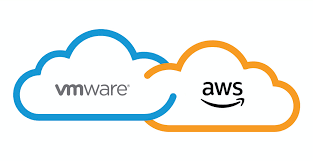 Overview
What is VMware Cloud on AWS?
VMware Cloud™ on AWS brings VMware's enterprise-class SDDC software to the AWS Cloud with optimized access to AWS services. Powered by VMware Cloud Foundation, VMware Cloud on AWS integrates our compute, storage and network virtualization products (VMware vSphere®, vSAN™ and NSX®) along with VMware vCenter management, optimized to run on dedicated, elastic, bare-metal AWS infrastructure.
---
VMware SDDC Delivered as a Cloud Service on AWS
Extend your on-premises vSphere environments to a VMware Software-Defined Data Center running on Amazon EC2 elastic, bare metal infrastructure, fully integrated with AWS. Enable IT teams to seamlessly migrate and run business-critical vSphere workloads in a familiar environment and modernize them with AWS services.
Modernize at Scale
Use cloud-native constructs to enrich existing applications with the full range of AWS services and transform them to Kubernetes orchestrated containers that run alongside VM-based applications as part of vSphere.
Fast, Low Cost Migration to the Cloud
Reduce the time, cost and risk of migrating vSphere workloads to the public cloud using the power of vMotion and HCX. Migrate individual apps or entire data centers without any conversions or downtime.
Proven Enterprise Infrastructure as a Service
Run business-critical apps on a familiar, feature-rich VMware SDDC that integrates vSphere, NSX and vSAN and is delivered as a cloud service on AWS.
Improved TCO with Cloud Economics
Save on total cost of ownership compared to traditional, distributed on-premises infrastructure thanks to efficient infrastructure, operations, resource utilization and on-demand consumption options.
---
At A Glance
VMware Cloud on AWS brings VMware's enterprise-class SDDC software to the AWS Cloud with optimized access to AWS services. Powered by VMware Cloud Foundation, VMware Cloud on AWS integrates our compute, storage, network and management products, which are optimized to run on dedicated, elastic, baremetal AWS infrastructure.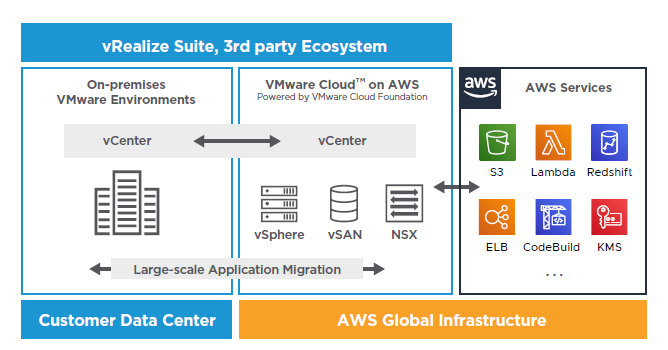 Benefits
The VMware Cloud on AWS Advantage
VMware Skills and Tools in the Cloud

No retraining staff, hiring scarce talent, refurbishing tools or revamping processes needed to benefit from the agility, scale and innovation of public cloud.

Comprehensive Visibility and Control

Get unmatched visibility into your network and unrivaled workload context to identify and block threats, while remaining isolated from the attack surface.

Lower CapEx

Host services on a monthly subscription billing cycle and eliminate capital spend typically required for private data centers.

Cloud-like ease-of-use

On-premises workloads enables your IT operations staff to focus on value-added services

Unparalleled consistency

On-premises and public cloud environments (VMware Cloud on AWS) allows your IT Security and Developers to focus efforts on a common set of tooling

Ultimate peace-of-mind

With VMware and Dell Technologies as your proven and trusted enterprise solution provider

Familiar VMware Cloud management

On Dell EMC VxRail hyperconverged infrastructure delivers a best-of-breed enterprise solution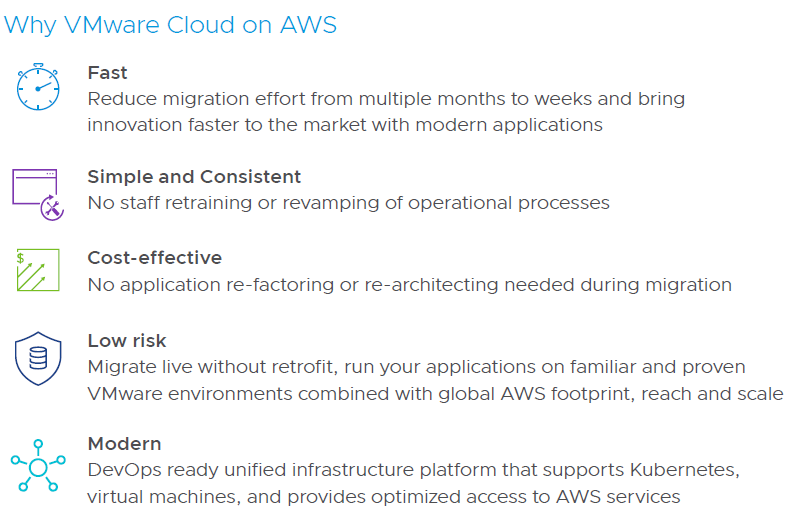 Use Cases:
Modernize Applications Pragmatically
Start modernizing applications with minimal disruption to your business. Transform apps using modern frameworks such as Kubernetes, enrich them with AWS PaaS services, and automate the underlying infrastructure operations with DevOps tools. Run, monitor and manage containers and virtual machines on the same platform using the same tools for flexible and simple infrastructure operations.
Migrate Your Applications to the Cloud
Accelerate cloud migrations of vSphere workloads from months or years to weeks or days with familiar, consistent infrastructure that eliminates the rework tax needed to re-architect applications. Reduce the complexity, cost and risk of cloud migrations compared to alternatives that require time and scarce skills. Once in the cloud, use VMware and AWS services to modernize your apps at your pace.
Extend Your Data Center to the Cloud
Easily extend your on-premises data center to AWS for quick access to additional capacity, on-demand scaling of apps, flexible development and test environments, or rapid regional expansion. Move your vSphere workloads without changing IP addresses into a VMware-consistent, enterprise-grade environment in the AWS Cloud quickly and cost-effectively, and manage it through your vCenter console.
Deliver Virtual Desktops from the Cloud
Adopt a robust, feature-rich cloud platform for virtual desktops and applications that can be used to deliver complete VDI infrastructure from the cloud. Or you can extend an existing on-premises VDI environment for desktop bursting, protection or proximity to applications running in AWS. Optimize infrastructure costs with flexible, consumption-based billing while paying only for what you use.
Recover from Disasters with Cloud Service
Simplify disaster protection with VMware Cloud Disaster Recovery and VMware Site Recovery, on-demand disaster recovery as a service (DRaaS) optimized for VMware Cloud on AWS. Accelerate time-to-protection, simplify disaster recovery operations and reduce secondary site costs with cloud economics, while providing a secondary site that is operationally consistent with your VMware data center.