vSphere Virtual Volumes
SAN/NAS Integration and Management

What is vSphere Virtual Volumes?
vVols uniquely shares a common storage operational model with vSAN, the market leading hyperconverged infrastructure (HCI) solution. Both solutions use storage policy-based management (SPBM) to eliminate storage provisioning, and use descriptive policies at the VM or VMDK level that can be applied or changed in minutes. SPBM accelerates storage operations and reduces the need for specialized skills for storage infrastructure.
vVols virtualizes SAN/NAS arrays, enabling a more efficient operational model optimized for virtualized environments and centered on the application instead of the infrastructure.
Software-Defined Storage (SDS)
VMware's vision and strategy are to drive transformation through the hypervisor, bringing to storage the same operational efficiency that server virtualization brought to compute. As the abstraction between applications and available resources, the hypervisor can balance all IT resources—compute, memory, storage and networking—needed by an application. With server virtualization as the de facto platform to run enterprise applications, VMware is uniquely positioned to deliver Software-Defined Storage (SDS) leveraging the pervasiveness of this software tier.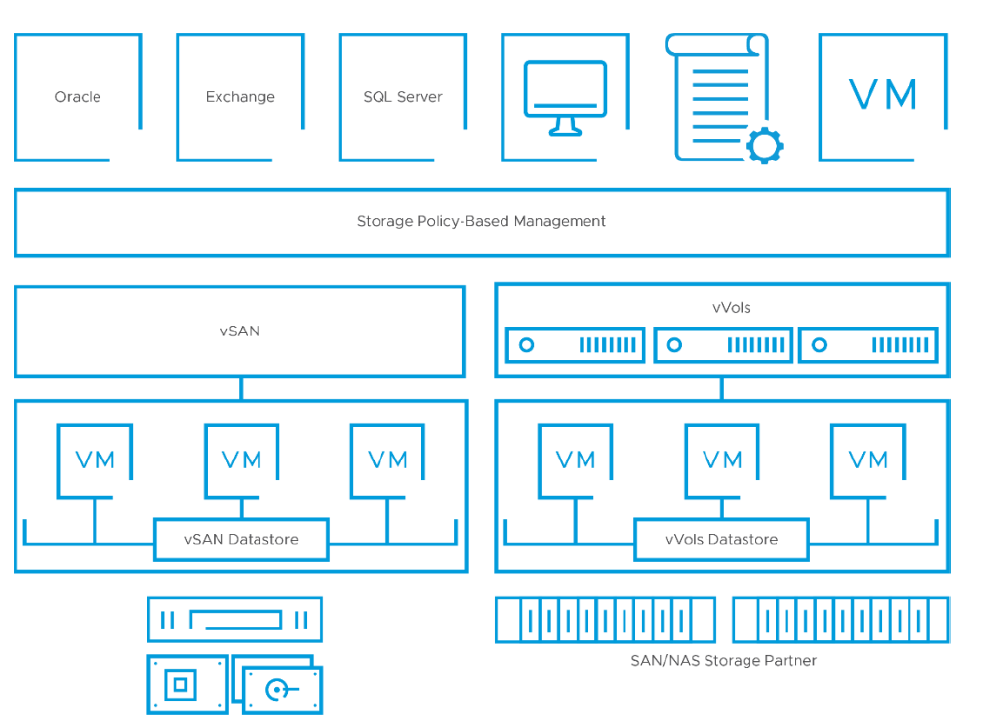 Finer Control
With vVols, it is much simpler to deliver and enable the right storage service levels according to the specific requirements of individual VMs. By having finer control over storage resources and data services down to the VM level, the VI administrator can create exact combinations and precisely deliver storage service levels. Over-provisioning is eliminated because each VM will consume the exact resources needed – nothing less, nothing more.
Streamlined Storage Operations
For both the VI Admin and the Storage Admin, vVols greatly simplifies management over the existing operational model. vVols allows separating the presentation from consumption of storage for VMs. In the VMware SDS model with vVols, the Storage Admin sets up the vVols datastore, which defines the capacity and data services. The VI Admin then uses the capabilities available in the datastore to compose policies. Any service level changes are reflected by simply changing policies. The Storage Admin is responsible for upfront setup, but the VI Admin is self-sufficient after that.
Flexibility of Choice
vVols is an industry-wide initiative that will allow IT organizations to leverage the unique capabilities of their current storage investments and transition without disruption to a simpler and more efficient operational model. IT organizations can also manage heterogeneous storage using a common control plane.
Storage Partner Ecosystem
vVols represents the collaboration of VMware and the storage ecosystem towards a new storage operational model centered on the VM. Major vendors participated in the design of vVols. The ecosystem continues to grow and strengthen with solutions ready for vVols.
vVols also integrates with vSphere APIs for IO Filtering to enable software-based data services. Initial partner offerings consist of caching and replication solutions.
Dell EMC Storage
Pure Storage
Hitachi Storage
Infinidat
Flexible Consumption at the Logical Level
vVols virtualizes SAN and NAS devices by abstracting physical hardware resources into logical pools of capacity (vVols datastores) that can be more flexibly consumed and configured to span a portion of, one or several storage arrays. A vVols datastore is a logical construct that can be configured on the fly, without disruption, and does not need to be formatted with a file system.
Native VM Representation
vVols defines a new virtual disk container (Virtual Volume) that is independent of the underlying physical storage representation. This virtual disk becomes the primary unit of data management, eliminating pre-allocated LUNs/Volumes. vVols enables storage operations with VM granularity, leveraging native array-based data services and software-based data services.
Policy-Driven Automation
Storage Policy-Based Management (SPBM) allows capturing storage service levels requirements (capacity, performance, availability, etc.) in the form of logical templates (policies) to which VMs are associated. SPBM automates VM placement by identifying available datastores that meet policy requirements and coupled with vVols, it dynamically instantiates necessary data services.
---