Tanzu Products and Services


VMware Tanzu enables you to build, run and manage modern apps on any cloud—and continuously deliver value to your customers. With VMware Tanzu, you can simplify multi-cloud operations and free developers to move faster with easy access to the right resources. VMware Tanzu enables development and operations' teams to work together in new ways that deliver transformative business results -

Free your apps. Simplify your ops.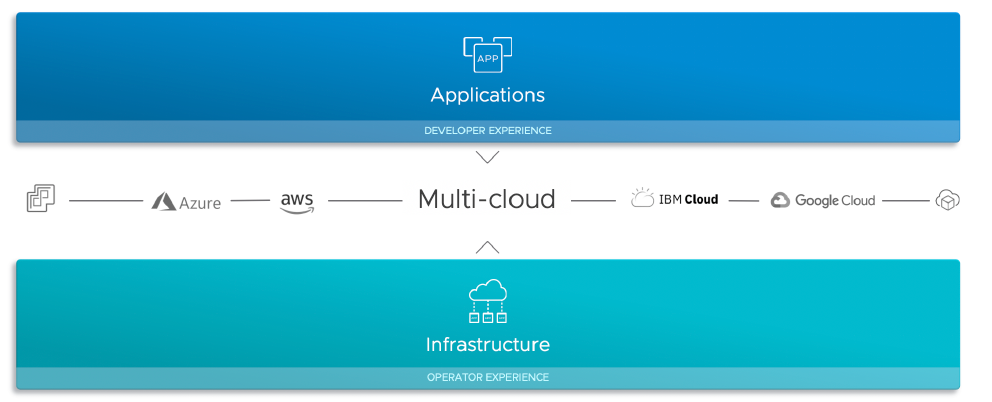 ---
Key Benefits
Ship great software faster—Increase velocity with a modern software supply chain of frameworks, services and validated open source tech
Simplify multi-cloud operations— Get your infrastructure ready to run modern apps, and centrally manage your clouds, clusters and apps
Transform Dev and Ops together—Unite application developers and operations teams around the shared goal of fast release cycles.
Outcomes
Business acceleration from productive developers, app velocity, innovative products, and happier customers.
High-performing, agile operations from a secure, resilient, scalable, accessible, cost-effective multi-cloud infrastructure by design.
Empowered teams from building a modern culture focused on delivering customer value continuously. Retain and attract great talent too.
---
Multi-cloud freedom
With VMware Tanzu, you can democratize your infrastructure to run on any cloud. Build a common Kubernetes foundation across mixed infrastructure to operate consistently, retain app portability, and optimize costs. Centralize policy management across your Kubernetes estate.
Open source alignment
Open source is an essential part of any modernization strategy—from a developer's laptop to operational software. And that's why we're committed to open source communities like Kubernetes. Together, we can deliver software that's more secure, scalable and innovative.
Powering enterprises at scale
VMware has helped 100% of Fortune 500 companies push their digital transformation forward. We pioneered virtualization and now deliver the fastest path to success in modern application development and delivery with VMware Tanzu.
Simplify cloud ops
| | |
| --- | --- |
| Tanzu Kubernetes Grid | Enterprise-ready Kubernetes runtime |
| Tanzu Mission Control | Centralised Cluster Management |
| Tanzu Observability | Enterprise observability for multi-cloud environments |
| Tanzu Service Mesh | Enterprise-class service mesh |
Build better apps
| | |
| --- | --- |
| Tanzu Application Service | A modern runtime for JAVA, .NET, and Node Apps |
| Tanzu Build Service | Build containers from source code for Kubernetes |
| Tanzu Application Catalog | Curated container catalog |
| Tanzu Data Services | Cloud native data and messaging |
BUILD APPS
Deliver the apps your customers crave Partner with us and match proven product development methods with modern technology—and revitalize the way you build software.
MODERNIZE APPS
Rearchitect valuable legacy Apps Migrating your existing apps can be daunting—but it doesn't have to be. We'll help you develop a tailored app modernization strategy that delivers production outcomes. Improve agility while reducing costs and tech debt with our proven Cloud Native Readiness techniques.
BUILD A PLATFORM
Evolve your Kubernetes strategy For your organization to succeed, you need to deliver innovative products more rapidly and provide the value your customers expect. That requires a Kubernetes strategy, a cutting-edge platform, and the technical expertise to deliver it in production. And that's where VMware Tanzu Labs comes in.
---