VMware Cloud on Dell EMC

Simple, Secure Cloud Infrastructure as a Service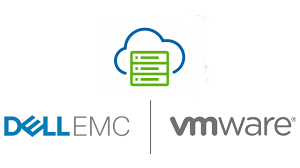 Overview:
Simple, Secure Cloud Infrastructure as a Service
Delivered as a service to data center and edge locations, VMware Cloud on Dell EMC and its hybrid cloud services provide simple, secure and scalable infrastructure. Remove the friction of day-to-day tasks with cloud-like ease-of-use for on-premises workloads and unparalleled consistency between your on-premises and public cloud environments.
Reduce Operational Complexity and Cost
Dramatically simplify the management of data center services and edge infrastructures with a fully-managed, subscription-based, service-based offering - all while significantly reducing your total cost of ownership.
Consistent Operations & Infrastructure
Support enterprise workloads using familiar VMware tools and processes. Our hybrid cloud services combine the simplicity and scalability of public cloud with the security and control of private cloud
Accelerate Innovation
With infrastructure that is supported end-to-end by VMware, IT admins can focus on product innovation and differentiation.
Integrated Hardware & Software
Utilize modern hardware that is built to run within the VMware ecosystem. VMware Cloud on Dell EMC is built on VxRail—vSphere, vSAN and NSX integrated with Dell EMC's enterprise-grade HCI—and comes with VMware SD-WAN.
Benefits of VMware Cloud on Dell EMC:
The speed and flexibility of public cloud with the security and control of on-premises infrastructure delivered as a fully managed Data Center-as-a-Service solution
Cloud-Grade Compliance and Certifications
Secure and protect corporate, customer and employee information with a security posture that protects all data types across all countries where business is conducted.
Comprehensive Visibility and Control
Get unmatched visibility into your network and unrivaled workload context to identify and block threats, while remaining isolated from the attack surface.
Lower CapEx
Host services on a monthly subscription billing cycle and eliminate capital spend typically required for private data centers.
Cloud-like ease-of-use
On-premises workloads enables your IT operations staff to focus on value-added services
Unparalleled consistency
On-premises and public cloud environments (VMware Cloud on AWS) allows your IT Security and Developers to focus efforts on a common set of tooling
Ultimate peace-of-mind
With VMware and Dell Technologies as your proven and trusted enterprise solution provider
Familiar VMware Cloud management
On Dell EMC VxRail hyperconverged infrastructure delivers a best-of-breed enterprise solution
Use Cases:
Infrastructure Modernization
Whether performing a hardware refresh, streamlining operations, or hoping to take advantage of the public cloud OpEx model—VMware Cloud on Dell EMC can help you modernize with HCI as-a-service.
Application Modernization
Handle modern applications with ease while modernizing your container-based workloads for deployment across private, hybrid and VMware cloud environments. Manage clusters of these workloads with automated tools that deliver simplicity and efficiency.
Managed Virtual Desktop Infrastructure
Take full advantage of updates and regular maintenance with fully-managed VDI. Increase performance for your team with consistently refreshed hardware and updated software.
---
Furthermore, the consistency VMware Cloud on Dell EMC creates between your public cloud and on-premises infrastructure reduces overhead for IT Operations, IT Security, Developers and CIOs/CTOs, enabling these roles to instead focus on accelerating the business